Breakfast is not called the most important meal of the day for nothing. With good breakfast, your day can be full of energy to get ready for challenges ahead.
Being a multicultural society comes with some gastronomical benefits – Malaysians are incredibly fortunate to have the luxury of eating a wide variety of food for breakfast each day, from delectable Chinese dim sum to a more spicy Malay food.
What is your favourite Malaysian breakfast food? In no particular order, here are 20 Malaysian breakfasts you must try during your stay here and where you can find them.
It is definitely worth reading!
Nasi Lemak
Nasi lemak is a favourite breakfast among all races in Malaysia. The fragrant rice dish is infused with coconut milk, and served with fried anchovies, sambal (spicy shrimp paste), boiled or fried egg, and sometimes cucumber as well as peanuts. Nasi Lemak has even been listed as one of 10 most healthy international breakfasts by TIME Magazine. The price ranges between RM2 and RM20 for a plate of nasi lemak, mainly depend on where you buy it. Nothing beats getting up early on a weekend than eating Village Park's famous nasi lemak at Damansara Uptown for a true Malaysian breakfast!
Nasi Kerabu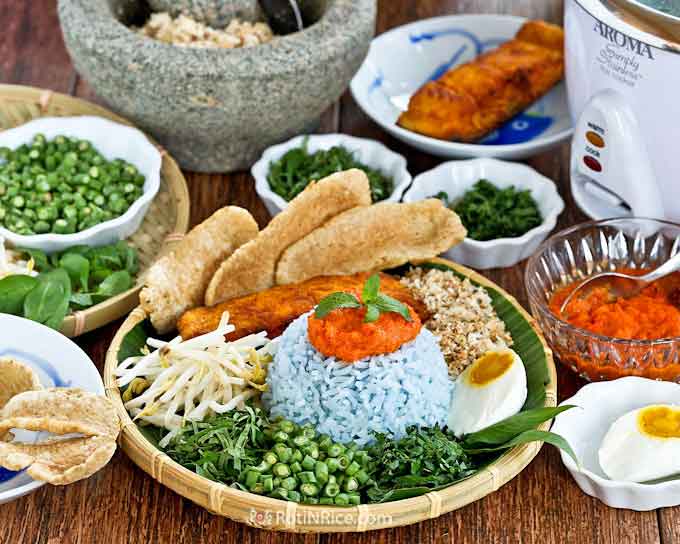 Nasi Kerabu is a unique Malay rice dish with the rice in blue colour, a type of nasi ulam. It is quite popular as a breakfast dish for Kelantanese. It is eaten with various mixture of Ulam (traditional local salad), crackers, fish or fried chicken, pickles, hard-boiled salted egg. The blue colour comes from flower's petals used in cooking it. Try out nasi kerabu at Kesom Café, Petaling Jaya for your stay as it is packed with a good amount of flavour, various ingredients for texture and a price you simply can't resist! But, in Kelantan, one of the best places to sample this dish is Kak Ma Nasi Kerabu in Kota Bahru.
Classic Combination (Kaya toast + Half-boiled egg + Coffee)
This is a classic combination as all walks of life love to eat it. A sweet start to your day with kaya toast, normally filled with coconut jam or peanut butter.
This is usually paired with a cup of coffee or tea, and sometimes complemented by a couple of soft-boiled eggs. The combination of this meal could be found at any kopitiam (cofffee shop). It is also one of the best sellers in some retail outlets such as Old Town White Coffee and Toast Box.
Tips: Popular kopitiam with this classic combination include Yut Kee Kopitiam, one of the oldest kopitiams in KL (Established in 1928) and Transfer Road Roti Bakar in Penang.
Tosai
No Malaysian breakfast list is complete without Thosai! This long, crepe-like meal may look huge when served, but you'll soon see that it takes up a small room in your stomach. This is typically served with yogurt or curry on the side.
Charred to a mellow crisp on the edges, warm and a tad tart from fermentation, it's hard to believe that something so simple and humble can turn into one scrumptious dish.
Famous restaurant to sample tosai: Chat Masala Restaurant in Brickfieds, Kuala Lumpur. (Specializing in authentic Indian cuisine)
Roti Canai
If there's only one roti you'll try in Malaysia, this should be it. Roti Canai, a type of flatbread influenced by the Indian ethnicity and it is usually served with dal (lentil-based soup) or kari ikan (fish curry) and is best eaten with bare hands.
Roti Canai is commonly sold in our local Indian tea stalls, famously known to the locals as Mamak stall. Mamak stall is also our locals favorite not only for food but also as a hang out place! Roti canai is variable from original, to the locals – Roti kosong, which means no fillings to choices of fillings with eggs, banana, chicken, lamb, tuna, etc, served with chicken curry, fish curry, dhal or combination of any curry of your preferences. Watching it being prepared itself is a spectacular as the roti is flung into the air like a pizza base.
Dim Sum
If you prefer snacks to breakfasts, or snacks for breakfast, this bite-sized style of cuisine will suit your palate and your gastronomic fashion. Fresh, flavourful and steaming food is typically served in bamboo steamer baskets and Chinese tea.
There are loads of variations to choose from, although some of the more popular ones are the Xiao Long Bao, Har Gow (Shrimp dumpling), Siu Mai (Steamed dumplings with pork and prawns) and Loh Bak Gao (steamed turnip cake).
Some of the famous outlets for your breakfast selection include Foo Hing Dim Sum in Puchong, Jin Xuan Hong Kong Restauratnt, Dragon-i Restaurant and etc. If your preference is halal, Malaysia has plenty of halal dim sum restaurants to choose from, with one of the popular brands in town being Dolly Dim Sum.
Yong Tau Foo
This Hakka dish is a mix of fish, meat, vegetables and tofu. Traditionally, only tofu cubes were stuffed with a paste of fish and pork, and then deep fried or braised. Vendors later got creative and started stuffing vegetables like bitter gourd, ladies' fingers, chillies and brinjals. Along with the stuffed ingredients are fish and meat balls, and also fried tofu skin. The dry version of the dish is enjoyed with chilli and sweet sauces, but the ingredients are also served in a clear soup. Side dishes such as chee cheong fun and rice are optional. Some of the famous stalls for this dish include Foong Foong restaurant at Ampang and a Yong Tau Foo at Puchong Batu 14 in front of a Chinese vernacular school.
Bah Kut Teh
The name literally translated as "meat bone tea" where various parts of pork is slow-cooked in a complex broth of herbs and spices. Bak Kut Teh is one of the local Chinese favorite breakfast for a nutritious meal, a calorie dense breakfast where it is said that this dish was once created for the hard labour. It comes in various forms as it could be strong and intense, or light and soupy; it could come in a humble bowl with only pork, or it could come in a claypot of goodies.
Klang is regarded as the city of Bak Kut Teh as there are more than one hundred Bak Kut Teh restaurants in the city itself. Under The Bridge Bak Kut Teh is one of the first to come to mind when the question of best Bak Kut Teh arises. This restaurant in Klang dates back to 1979, but the recipe has over 70 years of history.
Noodles soup
If you like your noodles, why not have it for breakfast? Some of the exciting choices here include curry noodles, soto, wan tan noodles, fish soup noodles, shredded chicken noodles and asam laksa.
Noodle soup is another preferred local breakfast, where lots of variation is widely available across Malaysia. From a bowl of delicate curry noodles, soto, fish soup noodles, shredded chicken noodles and lots more exciting choices.
Noodle soup is an excellent pick for breakfast as the soup is highly nutritious especially when the soup is done right.
Laksa Perlis
Many may not familiar about dishes or cuisines from Perlis. However, you should not miss out Laksa Perlis.
At first glance, the dish looks just like the Malay laksa you find in the other northern states of Kedah and Penang. But if you're looking for traditional Perlis laksa, head to the Laksa Kak Su at Jalan Siakap 1, Kuala Perlis.
Fresh house-made thick rice noodles are served in a fishy gravy along with "ulam" such as julienned cucumber, onion, chillies and daun selom.
Interestingly, Laksa Perlis, or known as "Laksa Kola" locally, is always eaten with pulut udang or kuih spera (like a curry puff but with a savoury grated coconut filling). It makes the gravy thicker and more delicious.
Big Breakfast
A huge plate of Big Breakfast for a breakfast or brunch with family or friends is the best way to kick off the first episode of the day.
With the mushrooming of fancy cafes in KL, most Malaysians have taken a strong liking for the western style hearty breakfast sets.
These usually come with a large portion of well-arranged sausages, sautéed mushrooms, baked beans, toast and eggs.
Places to check out if you love a good brunch or Big Breakfast include FEEKA Coffee Roasters @ Bukit Bintang (pork-free), Plan b, Merchant's Lane @ Petaling Street (pork-free), Acme Bar Coffee @ The Troika (pork-free) and many more!
Stir-fried noodles/Char Kuey Teow, Mee Goreng….
Stir-fried noodles or Char Kuey Teow or Mee Goreng and etc. are always the favourite dishes for Malaysians. It can be enjoyed as your breakfast, lunch or dinner as it is quite easy to find it on the streets.
Mee Goreng literally translated as fried noodle or commonly known as "chow mein" in Cantonese is another widely favoured choice of breakfast. It is fried with high temperature to create a strong aromatic plate of delicacy.
Char Keow Teow, which is basically flat rice noodles stir-fried with shrimp, bloody cockles, Chinese lap cheong has won the heart of diners from all over the world. It is a must-try dish when travelling to Penang. You have not visited Penang if you have not check it out.
Lontong
Lontong is an Asian dish that is commonly served with nasi impit (compressed rice) which is cut into cubes. It is drenched with a coconut milk and turmeric-based broth cooked with a variety of vegetables along with condiments such as fried tempeh, fried tofu and boiled eggs. You can add to the mix with sambal. An addition that's highly recommended is the fried beef lung. It's sliced thinly and fried until very crisp so that even in the broth, the pieces remain crunchy. Famous spot to try out Lontong is Chawan in Bangsar, whereby many white and blue-collared men and women will gather there in the morning to take this dish to kick start the day.
Teh Tarik, Milo, Cham, Hoi Nam Cha, etc.
You haven't been to Malaysia until you've tasted Teh Tarik, or "pulled tea". It got its name from the way the tea is poured from cup to cup to achieve that frothy surface. It pairs well with any breakfast meal.
Apart from Teh Tarik, the locals love a cup of coffee, better known as "kopi" (Local Malay word). A mixture of coffee and tea and you will get a cup of "cham" which means "mixture" in Cantonese. Malaysians basically love a dose of caffeine in the morning. Not to forget that Milo, a malt chocolate drink that Malaysian children raved over.
Most people choose to dip their cream crackers or biscuits into a nice, warm cup of this yummy drink. Be sure to have a cup of our local beverages and you can be considered as truly visiting this country.
Buns, pastry and kuih
It is not to difficult to look for a bun stall in most of the local breakfast places especially the morning market. Some of the bun with good demand include sweet coconut jam (kaya) bun, dried meat bun, hot dog bun, minced meat bun, tuna bun, peanut bun and etc. Besides, some of these stalls also selling pastry and kuih – local desserts. Nyonya kuih, for example, is a proud invention that most Malaysians choose to surrender their sweet tooth upon.
Chee Cheong Fun
Chee Cheong Fun is a steamed flat rice noodle rolls and taken with sauce, either sweet or savoury. In Penang, the rolls are cut into short cylinders and served with condiments such as thnee cheo (a sweet dark-red sauce), hae ko (black, prawn paste sauce), chilli sauce, oil and sprinkled with sesame seeds. Some people prefer the Chee Cheong Fun lightly tossed in curry sauce as well. People in Penang all have their favourite but you can't go wrong with the stall outside Seow Fong Lye Cafe on Macalister Lane. Be prepared to wait for your order.
Yau Char Kwai
Yau Char Kway (Cantonese) literally means "oil-fried devil" a name in accordance to the Chinese culture. The traditional deep-fried snack has been a breakfast staple for the Chinese for as long as any of us could remember. Here in Malaysia, it has been always served for breakfast with rice congee or dipped in soy milk, the long golden-brown snack is also eaten with bak kut teh or a cup of brewed coffee. You can also just simply munch on it.
Nasi Dagang
Nasi Dagang
Nasi dagang is one of the most popular breakfast dishes in Terengganu. Nasi dagang is a mixture of white fragrant rice and white glutinous rice. Here, most of the people prefer to eat it together with a curry made with ikan tongkol, a tuna species fished off the coast, and simple side dishes of acar timun and a hard-boiled egg.
Some of the top picks to check out this dish include a stall called Mak Ngah located at Kampung Bukit, Kuala Terengganu and also Kak Pah's stall at the Batu Buruk food court.
Fish Noodles
 As most of the breakfast dishes introduced here are famous in peninsular, let's take a look on a common dish for Sabahans called fish noodles.
Fish noodles at Jong Fa Pai restaurant in Kota Kinabalu served with meaty chunks of fish in a fish-based broth (clear or with milk) along with tofu, preserved vegetables and tomatoes. A halal version can be found at Wan Wan outlets.
Ngiu chap (In Hakka dialect), which means "mixed cow", is another favorite breakfast noodle among Sabahans. Eaters can expect every single part of the cow in this dish, including beef balls, tripe, tongue and tendons. Some people even add in liver and other innards.
Sarawak Laksa
 For Sarawakian, Sarawak Laksa makes for an amazing breakfast. The late Anthony Bourdain, who featured Sarawak laksa in his TV shows once called Sarawak Laksa "Breakfast of the Gods".
Significantly different from the many other types of laksa available in Peninsular Malaysia, Sarawak Laksa consists of rice vermicelli, shredded omelette, cooked prawns and strips of chicken in an aromatic broth, with sambal and lime served on the side.
This dish is beloved by all Sarawakians and is enjoyed by families and friends no matter what time of the day. Highly recommended Kuching restaurants that serve Sarawak laksa are Mom's Laksa @ Gita (halal) and Golden Arch Cafe.