Crazy Rich Asians is the current big hit in movie theatres right now. If you don't already know, it is a rom-com movie about a guy, Nick Young, who brings home his Asian-American girlfriend to be introduced to his family in Singapore. Only then does the girlfriend, Rachel, realise that her boyfriend is a "crazy rich Asian" and has to keep up with all the glitz and glamour, contend with weird relatives and gossip among envious socialites while trying to win over the heart of his domineering mother.
The movie, adapted from Kevin Kwan's book by the same title, is directed by Jon M. Chu, and has an all-Asian cast, including Malaysian darlings Henry Golding as Nick Young and Michelle Yeoh as his mother, Eleanor Young.
We're super proud of the fame and glory shining on Golding and Yeoh, but we're equally excited that Malaysia was prominently featured in many of the movie scenes. That's right, most of the movie was shot right here in Malaysia, and if you want to live it up like a crazy rich Asian, here's where to go!
Carcosa Seri Negara


In the movie, Carcosa Seri Negara is the ancestral estate of Eleanor Young at Tyersall Park, but in reality, the twin buildings have an iconic role in Malaysia's journey to independence. Historically, it was home to Malaya's first British resident, Frank Swettenham, and later was made into a luxury hotel where Queen Elizabeth II once stayed, and socialites gathered for their popular afternoon high teas.
The Kuala Lumpur mansion, located on a hill near the Perdana Botanical Gardens, is currently being transformed into the Asian Heritage Museum. The museum will see a staggering collection of artefacts from China, the Malay Archipelago, and the larger region, including salvaged treasure from sunken ships, drums, keris and swords, etc.
It currently has an on-going exhibition called "Jalan Merdeka" which is open free to the public, chronicling Malaysia's road to independence.
Cheong Fatt Tze Mansion


In the movie, there is a courtyard mahjong scene between Eleanor and Rachel. This was filmed at the Cheong Fatt Tze mansion in Penang, affectionately called the Blue Mansion.
This building was once owned by a notable Chinese merchant who lavished his wealth on its construction. He envisioned his home to have exacting feng shui elements and it soon became a showcase for his wealth through imported finishings such as Scottish cast iron columns, English art-nouveau stained glass windows, and Stoke-on-Trent floor tiles.
Abandoned for years thereafter, the building was then restored and earned the prestigious UNESCO Heritage 2000 Award and the ASEANTA Conservation Award 2004.
Today, the mansion has become a living museum cum boutique hotel located within the George Town UNESCO Heritage site. Many cultural and heritage attractions, as well as some of the best Malaysian street food, are located within the area. Penang is only an hour away by flight from Kuala Lumpur.
Langkawi Island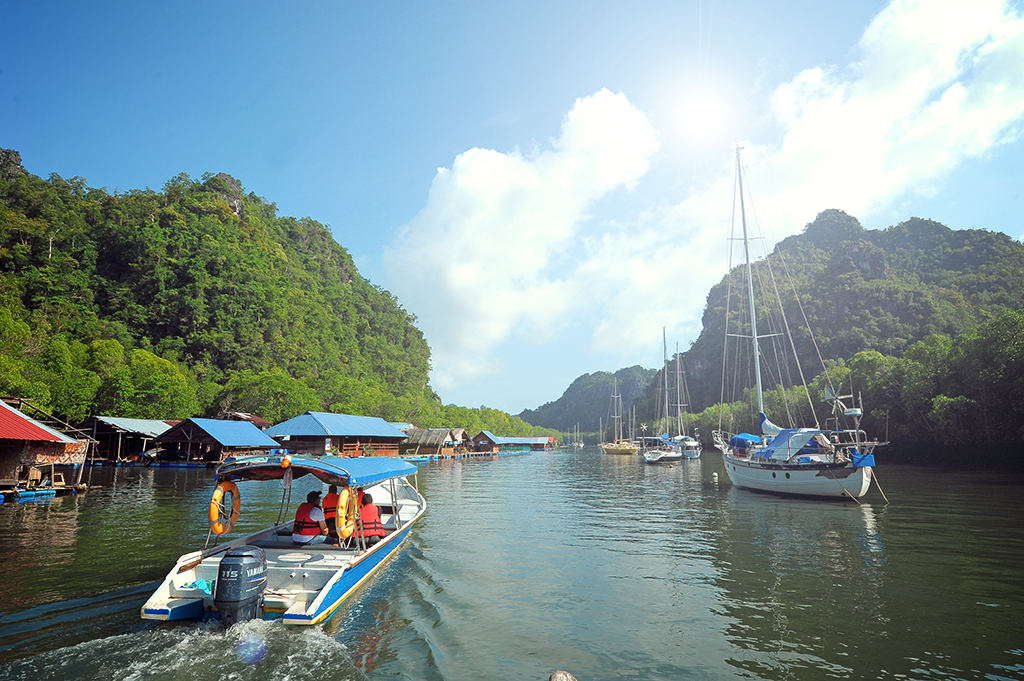 Apparently, shots of Colin Khoo's bachelor party in the movie were filmed on Langkawi Island, referred to as "Rawa Island" in the movie. Langkawi is actually a cluster of 99 glorious islands with beautiful emerald waters, stretches of white sandy beaches and geological formations that are said to be more than half a billion years old.
It has been endorsed as a UNESCO Global Geopark, the first in Southeast Asia, thanks to the island's stunning landscapes, karsts, caves, sea arches, stacks, and other geological formations.
This beautiful island is a natural paradise that will charm all those looking for an idyllic island holiday, surrounded by thick rainforests, the sun and the sea!
Four Seasons Resort Langkawi


If you're planning a bachelorette party ala Araminta Lee in Crazy Rich Asians, there's no need to dream anymore. The scene was filmed at the super luxurious Four Seasons Resort Langkawi and you could easily have yours there as well!
Parties aside, the classy resort also caters to those looking for peace and quiet amid natural landscapes and mile-long white sandy beaches. Tucked away within the Langkawi UNESCO Global Geopark, the resort is a cluster of Malay-style pavilions and villas that offer quiet, romantic havens for guests.
A Geo Spa pampers adults with wellness treatments based on local traditions, while children are made to feel special with the Kids For All Seasons programme. With Langkawi's rich natural environment conveniently at its doorstep, be prepared to explore the outdoors with a resident naturalist, or on your own at the Geopark Discovery Centre where Langkawi's diverse ecosystems and natural attributes are showcased. Or, simply pull up a deck chair and lounge lazily on the 1.5 km stretch of white, sandy beach.
With daily flights to Langkawi from Kuala Lumpur on a variety of local airlines, paradise is only one hour's flight away!
Astor Bar, St. Regis Kuala Lumpur
Not many recognize The Astor Bar at St Regis Kuala Lumpur in the movie due to its transformation into a jewellery boutique, but apparently, it made the scene where we are first introduced to Astrid Teo aka The Goddess.
The bar, with its old-world charm and modern elegance of rich leather, black-and-gold marble and brass accents, is located within the recently-opened St. Regis Kuala Lumpur.
Those wanting to re-live the Crazy Rich Asian moment may visit the bar and enjoy an extensive offering of champagne, spirits and fine vintage wines while smoking on choice cigars and sampling their signature dishes such as the royal king crab served the highly-prized Oscietra caviar and truffle cream…all this under a breathtaking domed ceiling clad in handmade Italian gold tiles.
And, for a limited time only, Astor Bar has concocted a special cocktail, "The Astrid," to celebrate its appearance in the film. The drink, a mixture of Jose Cuervo silver tequila, pomegranate juice, lemon bitters and elderflower foam, taken in the gilded setting of The Astor, is the perfect way to fantasise about being a crazy rich Asian!