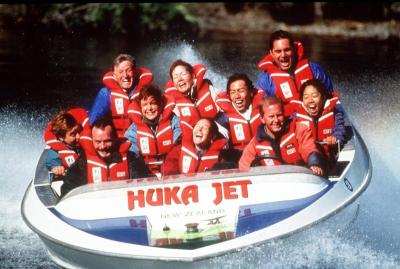 New Zealand is perfect for thrill-seeking backpackers who can choose between flying, falling, jumping, spinning and floating … all in the name of fun.
It was beginning to feel as if New Zealand's national emblem wasn't the silver fern, but the disclaimer form. The frequent signing away of liability for life and limb began shortly after I disembarked from a flight to Auckland.
Someone suggested that the best way to get rid of any long-haul cobwebs might be to take a lift to the top of the city's 328m Sky Tower (skycityauckland.co.nz), then base-jump off it (on a wire). I did, and two weeks of starting the day with "Read this and sign here� had begun.
I'm not an adrenaline junkie by nature and I've never got a kick out of danger, so it was fitting that I should start a fortnight dedicated to exploring new backpacking experiences by doing something terrifying, simply because I was too exhausted to feel afraid.
In the end, I landed at the foot of the Sky Tower, giddy with survival, went straight back up in the lift and jumped off it again. It turns out this adrenaline stuff is addictive. So much so, in fact, that entire towns and cities are given over to the business of thrill-seeking.
I have heard plenty of stories about doing something reckless in search of a rush, and New Zealand caters to such whims in all sorts of ways, from skydiving to bungee jumping to that strange practice of mimicking a giant gerbil in a plastic ball, called "zorbing�.
I spent some days travelling with the Stray Travel tour (straytravel.com), a hop-on, hop-off mini-coach service, which meanders up and down the country collecting and losing backpackers along the way.
It's relatively cheap, so perfect for those on a budget, and the sheer variety of its travellers was staggering: from European to American to Asian, from student to professional, from 21 to 40, an amiable jumble indeed. The only thing we all had in common, in fact, was a shared desire to wriggle out of our comfort zones.
Three hours south of Auckland, near the centre of the North Island, are the towns of Taupo and Rotorua. They're about 80km apart and both littered with companies offering adventures.
It's worth stopping by Taupo's Huka Falls for the jet boat (hukafalls.com), which skips and lurches across the Waikato river with a series of sharp 360° spins, before darting close to the Falls themselves. It's like being a stone skimmed across water, and it's soggy, exhilarating fun.
Next door we found the Huka Prawn Park(hukaprawnpark.co.nz), "the world's only geothermal prawn farmâ€?, which also has a theme park element, helmed by a man-sized prawn called Shawn The Prawn … one for kitsch enthusiasts.
But the newest experience to hit Rotorua is a forward-thinking combination of eco-tourism and old-fashioned thrills. Rotorua Canopy Tours (canopytours.co.nz) are billed as a native forest canopy zipline tour, which is a wordy way of saying that you fly through the trees like a tui, though with panicked screaming taking the place of beautiful birdsong.
The full circuit lasts for around three hours, and kicks off with a short walk through the Mamaku plateau forest, during which time the guides explain what they're all about, which is mostly conservation of native bird species, which are perpetually under threat from non-native mammals such as rats, stoats and possums.
If it sounds dry or dull, it isn't: this is a strikingly pretty piece of woodland, its plantlife and avian inhabitants are spectacular, and the guides are so clearly full of passion for the project that it's hard not to get swept up in their enthusiasm.
After the short walk-and-talk, it's time to jump off something, as, it seems, is often the way in this country. In this instance the "flying fox� experience involves zipwiring between a series of wooden platforms at increasing heights, and across increasing widths, though this is a relatively gentle experience, at least until the final jump.
"We've got a surprise for you,� our guide (and Canopy Tours founder) James Fitzgerald grinned, before hoisting me into the unknown. About halfway across that final ride, the floor of the forest suddenly drops away, and it feels as if you're hundreds of feet in the air, dangling from a cable, soaring through the tops of the trees.
I had a funny urge to flap my arms, which, I suppose, could be a sneaky conservation tactic: avian empathy. Everyone in our group felt invigorated by the semi-flying and liked cute little possums that little bit less.
By this point, I was confident that I could conquer my fears on a near-professional level. I'm not scared of heights (hence all the jumping) but for a long time I was terrified of planes, and it took a fear-of-flying course and a lot of determination to get me anywhere near one.
Though I'm almost cured, I still get the occasional flash of nerves, so naturally I decided a skydive (Able Tasman Skydive, skydive.co.nz) might be the thing to knock it on the head once and for all.
As we flew to 5,000m above the Abel Tasman national park, I was not so sure about this self-prescribed therapeutic experience, but, as they say, there's only one way down. So, I got strapped to my jump partner Chris and we tumbled out of the door and fell through the air for 70 of the longest seconds of my life.
"You can relax now – the parachute's opened so that's good,â€? he said, with typical Kiwi understatement. It wasn't just the biggest buzz of the fortnight – it was the most thrilling experience of my life.
I was high on it for the rest of the trip. Even now, when something feels insurmountable, I remember how it felt to sit near the exit of a tiny plane and see the North and South Islands thousands of feet below. – Guardian News Media
Related Story:
Scuba show