The newly open Toast Box Cafe (N1 32.368 E103 48.263)  on 1st Aug 2013 is located at the corner of Jalan Dedap 13 Dedap 8, Tmn Johor Jaya. We were invited by media for the Grand Opening Ceremony of the Cafe.
"The neighbourhood of Johor Jaya is greeted by the charm of Traditional Nanyang Coffee (Kopi in colloquial terms), and Kaya Toast in a modern rustic setting with the opening of the brand new Toast Box store at Johor Jaya. Being the second store to open in Johor Bahru other than the one at KSL City Mall, it is currently the largest Toast Box in South East Asia.
 
This new store is a significant milestone in Toast Box's plans to bringing its distinctive Traditional Nanyang culture to different parts of Asia, providing the vibrant neighbourhood a hearty and unique dining experience with a hint of nostalgia.
 
Established in December 2005, the first Toast Box outlet was located in Food Republic Wisma Atria and has grown steadily with its unique concept. To date, Toast Box has 57 outlets in Singapore and 34 outlets in China, Hong Kong, Malaysia, Taiwan, Philippines and Thailand."


"Breeze into Toast Box at Johor Jaya and be charmed by the joy of old style, casual dining experience in a simplistic yet endearing ambience. Sharing the charm of Traditional Nanyang Kopi and Toast culture with customers, Toast Box strives to deliver the best kopi and toast, making every visit a delicious stroll down memory lane."
We like the atmosphere and the rustic decoration very much. Felt like a English setting…especially all in white color…
The Grand Opening speech by Mr Vincent Lim (???), Senior Vice President of Toast Box (Global), Mr James Quek (???), Chief Executive Officer of Bakery Division (Global), BreadTalk Pte Ltd and followed by the Guest Of Honor – YB Liow Cai Tung (???), State Assembly Woman for Johor Jaya.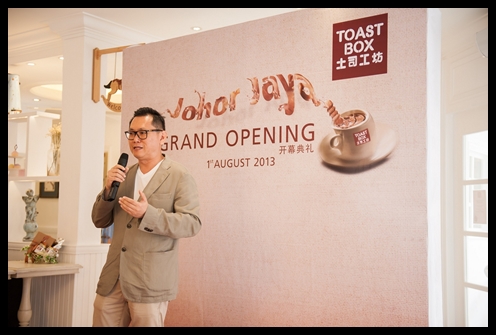 The demonstration of Nanyang Coffee brewing came after the speech. I'm so regret that my hardisk crashed few days ago that all my photos gone with it and I cannot show you the way they brew their signature coffee…apologies.


Each of us have a chance to taste the coffee after it…taste nice!
Beside the coffee, the cafe do serve others like Peanuts Butter Thick Toast, Laksa Mee Tai Mak, Homemade Nasi Lemak with Chicken Wing, Curry Chicken with rice or Baguette. Their Thick Toast all are cut with the thickness of exact 2cm, said by Mr Vincent Lim – Senior Vice President of Toast Box.
Toast Box is offering a special promotion of 10% off with a minimum of RM5 spent from now until 31st August 2013. This promotion is only valid at Toast Box Johor Jaya.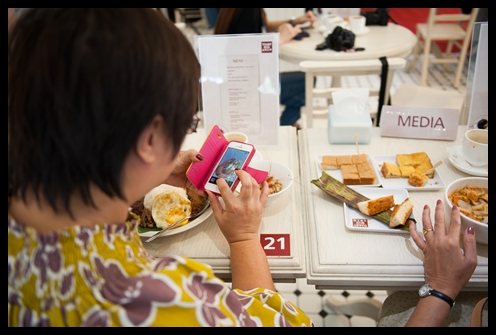 The parent company of Toast Box is Breadtalk from Singapore, here is some write up about Breadtalk…
"Founded as an FB operator in Singapore in 2000 and listed on the SGX in 2003, BreadTalk Group Limited has rapidly expanded to become a distinctive household brand owner that has established its mark on the world stage with its bakery, restaurant and food atrium footprints. Its brand portfolio comprises BreadTalk, Toast Box, Food Republic, Din Tai Fung, The Icing Room, RamenPlay, Thye Moh Chan and Carl's Jr China. With global staff strength of 7,000 employees, the Group has a network of 700 FB outlets in 15 countries such as Singapore, China, Hong Kong and the Middle East. It also operates Michelin Star awardee, Din Tai Fung, with close to 20 restaurants in Singapore and Thailand, as well as over 50 award-winning Food Republic food atriums in Singapore, China, Hong Kong, Malaysia, Taiwan and Thailand."
Do try out the new concept of cafe at Taman Johor Jaya, you may like the foods and the deco which is unique at the Dedap area…