THE CURIOUS CASE OF WANDERLUST FEVER
Looking back now, waiting to board our plane back home, we still can't believe that we actually did it!
The journey has been unbelievable to us, after months of planning and restless anticipation, we finally got to pack our travel gear, cameras a really really good powerbank (we're millennials after all) and headed off for an adventure of a lifetime in Borneo!
For a month, we travelled across the South China Sea, to the Malaysian states of Sarawak and Sabah; to experience the best they have to offer. We sought out the best experiences, to learn new interesting cultures eat tantalizing local cuisines. But, our main purpose was to really immerse ourselves in the adventure that awaited us.
Like you probably are now, we were tired and bored of our 9-5 working lives. Day in and day out of the office, which one of us hasn't felt like living zombies before? We needed a break from the rat-race, away from the overbearing ambiance of the city. Living in metropolis had exhausted our senses.  A short respite from the never ending sights of cold glass skyscrapers and the screeching sounds of the passing traffic was all that we needed.
Crashing waves, chirping birds, cool sea breezes and warm sandy beaches; what do they all have in common?
Answer: They are all constant in our lunchbreak fantasies. If you won't admit it, we will!
Bitten by the travel bug, we were your definite stereotypical Wanderlusters.
At first, we were skeptical of curing our wanderlust fever in Sabah and Sarawak. Even as local Malaysians, the two states were still a mystery to us as everything we've ever known about them were from school textbooks or local papers. But after reading great reviews online and hearing personal experiences from family members alike, we decided not to skip this one out.
Now that we've experienced it, we can say they are truly the hidden gems of Malaysian tourism.
INTO THE WILDS OF BORNEO
IMAGINE THIS.
You are now standing in the middle a 130-million-year old tropical rainforest, while your cityscape fades to the recesses of your mind, let it stay there. It is truly a breathtaking sight; you are surrounded by towering ancient trees while rays of sunlight warm your face through the rustling greens of the canopies. Said to not only have one of the most biodiverse rainforests, it is also one of the most culturally diverse places on the planet. There is so much to be discovered here in Borneo!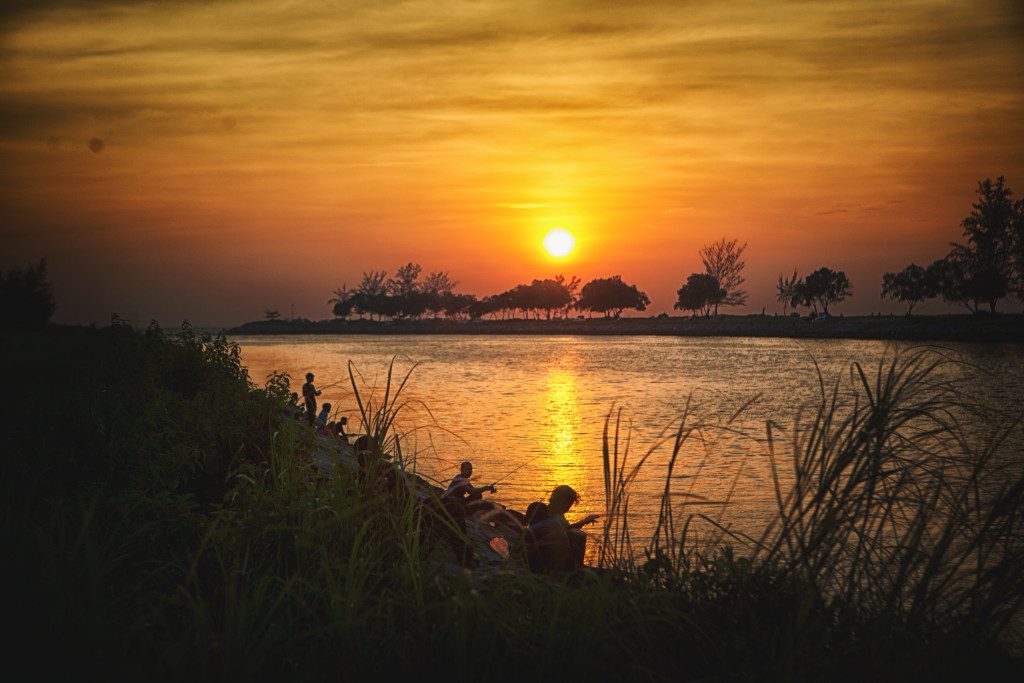 Sunset straight out of a dream! Miri, Sarawak
On our journey, we've passed through the enchanting forests of Bako National Park, had a little dance battle in the center of a drum circle at the Rainforest World Music Festival in Sarawak, swam in the clear waters of Semporna and trekked the Mountain View in Kinabalu Park, Sabah. Being the beach bums we are, we also hung out at some of the most pristine secluded beaches in Malaysia. That's just us touching the surface of the water.
All things fresh and rare at Kota Kinabalu, Sabah
No picture in the world can do justice to Mount Kinabalu, Sabah
We saw rare Proboscis Monkeys in the lush greeneries of Danum Valley, and not to mention majestic Hornbills taking flight right in front of our eyes! We even saw the legendary Orangutan at the Matang Wildlife Centre and visited endangered Sunbears at The Bornean Sun Bear Conservation Centre. It's literally the wildest we've ever been!
One thing we've learned from the trip is that the world has so much more to offer; if you show your interest in it. If there is anything we hope to accomplish with our Taming Borneo series, it is to encourage others to follow in our footsteps, and explore the world beyond the comfort of your front door.
Take action. Plan your trip, and cure that wanderlust fever!
If you have more questions regarding our Taming Borneo adventure, please do leave a comment in the comment section below, or start a discussion; tell us your personal Taming Borneo experience!
Also do follow along our adventure on our social media platforms:
Instagram: @MyTourismChannel or #tamingborneo