Terletak 25 km dari selatan Kuala Lumpur adalah pusat pentadbiran Kerajaan Persekutuan Malaysia, Putrajaya yang merupakan cetusan idea daripada Bapa Pemodenan Malaysia, Tun Dr Mahathir Mohamad. Kedengaran agak sofistikated bukan? Anda pasti membayangkan sebuah bandar yang penuh dengan bangunan-bangunan kerajaan dan tiada apa yang menarik untuk dilihat.
Namun sebenarnya, bandaraya futuristik ini juga agak meriah dengan pelbagai acara dan fiesta yang diadakan setiap tahun seperti Fiesta Belon Udara Panas Antarabangsa, Floria, Pertandingan Bunga Api Antarabangsa dan banyak lagi.
Bukan itu sahaja, pusat-pusat membeli-belah yang terdapat di sini juga adalah antara lokasi yang wajib anda lawati untuk pilihan yang cukup merambangkan mata. Tarikan-tarikan lain yang ditawarkan Putrajaya juga sangat ikonik seperti  taman botani yang indah dan luas sehingga dijadikan lokasi penggambaran, jambatan-jambatan yang fotogenik dan macam-macam lagi.
Ingin melihat di depan mata sendiri semua tarikan bandaraya ini? Bawalah keluarga anda bercuti ke Putrajaya. Jangan risau, walaupun ia merupakan antara bandar yang penting di negara ini, pilihan penginapan yang murah tetap mudah didapati, nak tahu di mana?  Teruskan membaca senarai hotel murah di Putrajaya ini.
7. Mihrab Hotel, Putrajaya
Mihrab Hotel adalah sebuah penginapan mesra muslim yang terletak berdekatan dengan banyak kedai dan juga restoran, antara kedai yang terletak berdekatan adalah seperti pasaraya Mydin, Pizza Hut, Domino's, kebab dan banyak lagi.
Turun sahaja dari hotel, tepuk dada, tanya selera ya? Berkaitan dengan bilik-bilik yang ditawarkan di hotel ini pula, walaupun adalah sebuah hotel bajet, kebersihannya cukup terjaga, kelajuan wifinya juga sangat memuaskan hati.
Harga: Dari RM126+ Semalaman
Alamat: No 67, Jalan Diplomatik, Presint Diplomatik, 62050 Putrajaya
---
6. AMJ Putrajaya Homestay (Lake View)
AMJ Putrajaya Homestay adalah sebuah hotel yang menghamparkan pemandangan indah sekitar tasik dan taman dari bilik yang diduduki. Pemandangan yang indah dengan harga yang murah? Macam susah je nak percayakan? Di samping itu, bilik-biliknya juga cukup luas untuk penginapan bersama keluarga, ia juga lengkap dengan pelbagai kemudahan asas seperti peti sejuk dan peralatan membuat air.
Selain itu, hotel ini terletak berdekatan dengan pusat membeli-belah Alamanda yang boleh diakses dengan hanya berjalan kaki beberapa minit sahaja dari hotel. Bosan-bosan di bilik itu, singgah sahaja ke Alamanda untuk menonton wayang.
Harga: Dari RM155+ Semalaman
Alamat: No 19, Jalan Kesum P16/3, Danau Mutiara Presint 16, 62150 Putrajaya
---
5. Palm Garden Hotel
Terletak di atas tanah menghijau yang berkeluasan 330 ekar, Palm Garden Hotel adalah sebuah hotel 4 bintang yang cukup istimewa. Menginap di hotel ini dapat menyatukan anda dengan ketenangan alam semulajadi, mana tidaknya, setiap bilik lengkap dengan balkoni ataupun tingkap yang dikelilingi oleh pokok-pokok yang tumbuh mekar.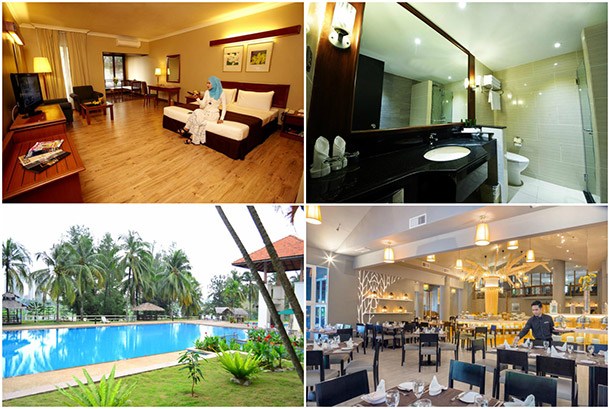 Di samping bilik yang luas dan selesa, kemudahan lain yang disediakan di sini adalah lapangan golf, tempat bermain futsal, kolam renang, aktiviti camping untuk kanak-kanak dan banyak lagi. Lokasi? Dari hotel ini anda hanya perlu berjalan kaki dalam 5 minit sahaja untuk sampai ke IOI City Mall yang penuh dengan pelbagai jenis outlet, kedai makan dan termasuklah District 21, antara lokasi yang wajib singgah kalau ke Putrajaya!
Harga: Dari RM170+ Semalaman
Alamat: Palm Garden Hotel, IOI Resort City, 62502 Putrajaya
---
4. Dorsett Putrajaya
Dengan harga yang bermula dari bawah RM200 anda dapat menikmati penginapan yang cukup lengkap seperti berada di hotel 5 bintang. Hotel Dorsett Putrajaya dilengkapi bukan sahaja dengan gym, malahan juga sebuah kolam infiniti di mana anda boleh bermandi-manda sambil menikmati pemandangan mengasyikkan sekitar Putrajaya dan tasik yang tenang.
Hotel ini juga terletak berdekatan dengan pelbagai jenis kedai makan, pusat membeli-belah juga bersebelahan sahaja dengan hotel. Fasiliti dan lokasi hotel ini memang tip-top!
Harga: Dari RM187+ Semalaman
Alamat: Precinct 3, Putrajaya 60520
---
3. Awedee Homestay Putrajaya
Berlokasi strategik, terletak berdekatan dengan Alamanda dan juga IOI Mall, Awedee Homestay Putrajaya adalah sebuah penginapan 3 bilik yang sesuai untuk anda yang datang dalam bilangan yang ramai.
Homestay ini juga memiliki dapur dan ruang makan yang selesa, yang mana bahagian dapurnya lengkap dengan kemudahan microwave dan juga peti sejuk. Luas dan sempurna kemudahannya, apa lagi yang anda inginkan dari sebuah penginapan bajet?
Harga: Dari RM200+ Semalaman
Alamat: Block A, Pangsapuri Putra Harmoni, Precinct 9, 62250 Putrajaya
---
2. SinggahSini Guesthouse Putrajaya
SinggahSini Guesthouse Putrajaya adalah sebuah penginapan jenis apartment yang terletak hanya 1.8 km dari District 21 IOI City Mall. Sebuah apartment yang dilengkapi dengan fasiliti kolam renang untuk anda bermandi-manda setelah puas menikmati percutian yang urban di Putrajaya.
Apartment dengan tiga buah bilik ini juga memiliki ruang dapur yang lengkap dengan pelbagai kemudahan seperti oven, peti ais, cerek elektrik, dan banyak lagi. Bolehlah anda memasak seperti di rumah sendiri kalau menginap di sini. Di samping itu, SinggahSini Guesthouse Putrajaya turut menyediakan mesin basuh. Kemudahan sebegini menjadikan SinggahSini Guesthouse Putrajaya  salah satu penginapan yang sesuai untuk dijadikan pilihan sekiranya anda ingin bercuti dengan lama di Putrajaya.
Harga: Dari RM233+ Semalaman
Alamat: Block A, Tamara Residence, Jalan Temoleh, Presint 8, 62250 Putrajaya
---
1. The Everly Putrajaya
Menyajikan pemandangan indah sekitar tasik ataupun lanskap bandaraya yang futuristik, The Everly Putrajaya adalah sebuah tempat penginapan yang pasti dapat memberikan anda sekeluarga ketenangan bukan sahaja dari segi pemandangannya malahan juga dari segi keselesaan dan kelengkapan bilik-bilik yang ditawarkannya.
Di samping bilik yang luas dan sesuai untuk penginapan bersama keluarga, sesetengah bilik di hotel ini juga dilengkapi dengan mesin espresso, bagi anda yang kaki kopi itu, minumlah kopi sepuas hati anda kalau menginap di sini. Bukan itu sahaja, untuk para wanita yang tidak dapat menahan keinginan membeli-belah, pusat membeli-belah yang besar di Putrajaya, Alamanda terletak bersebelahan sahaja dengan hotel.
Harga: Dari RM184+ Semalaman
Alamat: No.1 Jalan Alamanda 2, Precinct 1, 62000 Putrajaya
---
Bagaimana? Ada hotel murah di Putrajaya yang sesuai dengan bajet dan rancangan percutian anda? Agak susah juga ingin membuat pilihan memandangkan masing-masing memilki lokasi yang strategik dan kebanyakannya terletak berdekatan dengan tempat makan bukan? Inginkan lebih banyak pilihan sehingga terjumpa yang lebih berkenan di hati?
Layari sahaja booking.com, di sini, anda pasti akan rambang mata dengan pilihan-pilihan hotel menarik dalam harga yang cukup murah. Apabila dapat berjimat dari segi penginapan, barulah anda sekeluarga dapat berseronok dengan ekstra lagi bercuti nanti.
Jangan buang masa lagi, bawa keluarga anda ke Putrajaya untuk sebuah percutian yang moden namun jauh dari hiruk-pikuk seperti di bandaraya besar yang lain. Semoga anda sekeluarga berseronok bercuti di Putrajaya!