When you live in a country like Malaysia, you can't help but want to go camping in the rainforests or on the high hills because nature here is abundant and unbelievably beautiful. But the reasons that stop you from doing that is the thought of trekking, putting up makeshift tents, sleeping in sleeping bags and fighting off mosquitoes and leeches.
But fret not, you urban jungle warriors…the glamping trend has arrived in Malaysia, enabling you to experience the wilderness with complete luxury and comfort. There's no need to get your hands dirty or worry about being bitten by killer ants!
Here are top 5 glamping sites in Peninsular Malaysia:
Tiarasa Escapes, Pahang
Tiarasa Escapes is nestled in the cool foothills of Janda Baik located just 30 minutes outside Kuala Lumpur. Spread across 7 acres, your senses are at once heightened and soothed by a graceful vista of majestic trees and fragrant fruit-laden orchards. Here, rare vibrant birds seek refuge, butterflies flit about and red dragonflies dance along a bubbling brook. The best thing is that you can be part of it all from the comforts of Tiarasa Escapes' luxurious safari-style tents and treetop villas surrounded by mountain mist, lush rainforest, babbling brooks, and winding paths.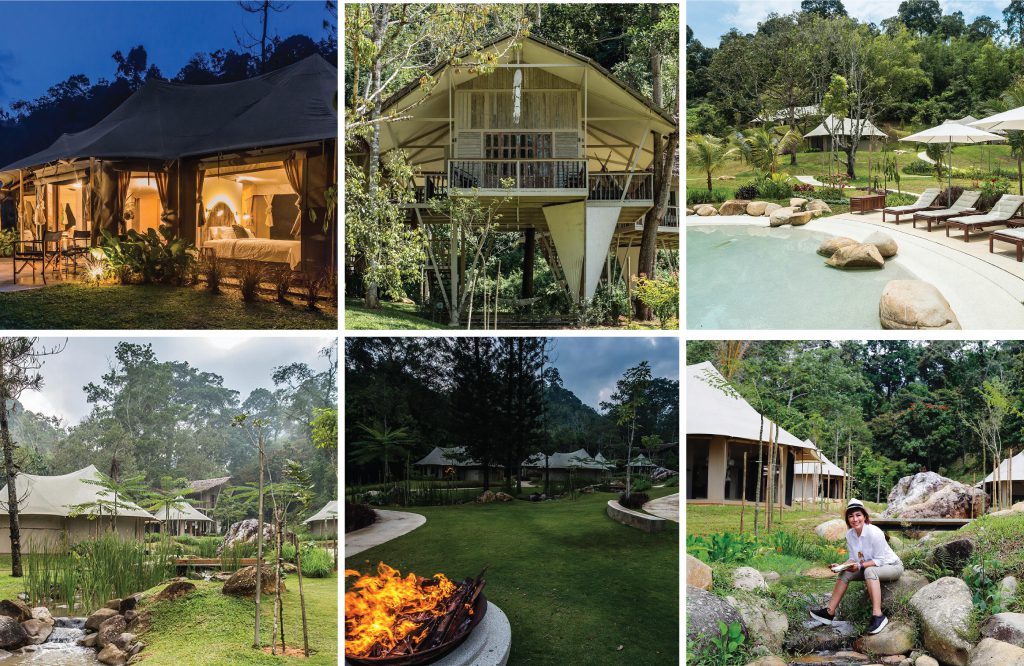 Address: Jalan Enderong, Sum Sum Ulu,
28750 Kampung Janda Baik, Pahang, Malaysia
Tel: 012-887 7777
Website: www.tiarasaescapes.com
Boulder Valley Glamping , Penang
A unique way to experience untamed and utterly exceptional parts of the world – without sacrificing creature comforts is to stay at Boulder Valley Glamping. You will get an experience to sleep among the unique boulders and tropical greens settings. Intentionally kept basic and free from over lavishness, glamping tents at Boulders are a far cry from the DIY tent in a bag. They offer amenities like comfortable beds and ensuite bathroom facilities.
Address:
8 Jalan Teluk Bahang
11050 Teluk Bahang, Pulau Pinang, Malaysia
Tel: +6012 4906882
Email: info@bouldervalleyglamping.com.my
Website : https://bouldervalleyglamping.com.my
Lost World Glamping, Ipoh, Perak
Glamping inside a theme park will be a dream come true for many of us, especially when the theme park itself is surrounded by lush tropical jungle with natural hotsprings, spectacular limestone features and natural surroundings. The Lost World Glamping packages come with luxurious tent complete with the comforts of a hotel, such as bed linen, power sockets, fan, and complimentary buffet breakfast. You will also have access to the Lost World of Tambun and Lost World Hot Springs Night Park. It's the perfect introduction to rainforest adventure for the little ones!
Address:
No.1, Persiaran Lagun Sunway 1,
Sunway City Ipoh,
31150 Ipoh, Perak Darul Ridzuan,
Theme park tel: +605 542 8888
Hotel tel: +605- 540 8888
E-mail: lostworldoftambun@sunway.com.my
Website: https://sunwaylostworldoftambun.com/glamping/
Tanah Larwina, Selangor
Tanah Larwina's charming 3-acre orchard and animal farm is located just outside KL city, which is really convenient for urbanites looking for a short get-away. You can glamp in style during the weekend at this industrial-style self-catering lodge uniquely designed overlooking a cascading stream. Get up close with various animals including rabbits, horses, geese and peacocks, or explore the natural surroundings at your leisure.
Address
Kg Paya Lebar, Batu 23,  Jalan Sg Lui,
Hulu Langat, Selangor, Malaysia.
WhatsApp: +6 012 210 3351 – Faisol  (No phonecall please)
Email: tanahlarwina@gmail.com
Website: http://www.tanahlarwina.com
Glamping@Kongkoi, Jelebu, Negeri Sembilan
Glamping@Kongkoi is a family-run private hideout situated within 10 acres of forest land by the Kenaboi River in Jelebu, Negeri Sembilan, about 80km from Kuala Lumpur city center. Inspired by their journey in the creative industry and their own love for nature and adventure, the owners of Glamping@Kongkoi offer 10 handcrafted chalets, rumah tamu villa and riverbank tents for those who want to be closer to the wilderness yet feel right at home.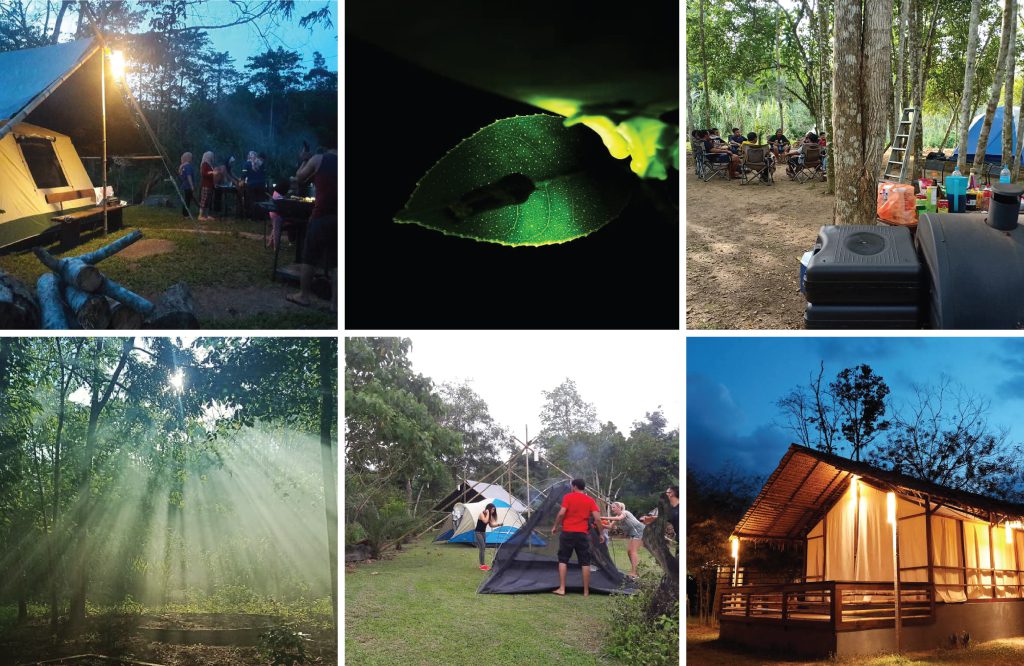 Address:
Lot 608, Kampung Puom
71650 Titi, Jelebu, Negeri Sembilan
TEL: 601-9269-5260
E-mail: booking@glampingatkongkoi.com
Website: https://www.glampingatkongkoi.com