Traveling to Southeast Asia with children is not particularly advertised. However, most holidays in region are perfectly suitable for children. Always check beforehand to determine if a certain organized trip is age appropriate. Visitors of Wonderful Malaysia often ask the question if it is possible – and if it is wise – to travel to Malaysia with small children. Looking only at all fun attractions in the capital city of Kuala Lumpur, it is clear that the answer is 'Yes'. However, as parents, you do need to take certain things into account that you do not have to think about in non-tropical countries. Malaysia is a fantastic country for children. There is an enormous variation and so there is always something to do. The kids will not get bored that easily in this country.
Great things to do in Kuala Lumpur
Berjaya Times Square Theme Park
In every city in Malaysia, there are a few big shopping malls and because they also serve as a social meeting point for the locals (also kids), you will often find many fun attractions within the malls. Each mall has a cinema and a big bowling alley. For example, the Berjaya Times Square mall has a bowling alley – Ampang Superbowl – with a whopping 48 lanes. However, the shopping mall is mainly – world – famous due to the indoor Berjaya Times Square Theme Park, where a roller coaster with loops thunders past the railings of the balconies of the various levels.
Sunway Lagoon
Next to the big Sunway Pyramid Mall – which is quite a distance from the Kuala Lumpur city center – lays the enormous aqua theme park called Sunway Lagoon, very popular amongst the locals and lots of fun as a day trip away from the big city.
Genting Highlands Theme Park
One of the biggest (and most hectic) kids' paradise in Malaysia is about an hour's drive from Kuala Lumpur. Genting Highlands is an entertainment city with many attractions (including numerous casinos) and with a huge kids' theme park. A big advantage of this theme park is the coolness of the highlands; a possible disadvantage are the crowds. We had never seen so many families with kids in one place. The theme is currently closed for renovations and expected to open in 2016 as the world's first Twentieth Century Fox Theme Park.
Kuala Lumpur Bird Park
Within the beautiful Lake Gardens, the biggest park in Kuala Lumpur, you can find the popular KL Bird Park. Here you can see thousands of birds. Children will have a great time, and they will learn a lot about all the bird species you can see here too. Especially popular is the World's Largest Free-flight Walk-in Aviary; where you can see birds flying around you or even have birds sitting on your shoulder.
KLCC Aquarium
Another popular attraction for kids is the KLCC Aquarium. Here you can see thousands of fish species, many species can also be found in the seas surrounding Malaysia. This great attraction is located right in the center of Kuala Lumpur, nearby the huge Suria KLCC shopping mall.
KidZania
If you are traveling with young children and are looking for a fun day out in Kuala Lumpur, you should consider KidZania; an indoor family educational and entertainment center which offers an interactive learning and entertainment experience for kids in a kid-sized city to deliver the first-of-its-kind edutainment fun. The KidZania experience is about real-life experiences, empowering, inspiring and educating kids through role-play. It is located near a nice shopping mall, so you can combine this with some nice shopping afterwards.
Adventure trips with kids
Apart from the big cities, you also have many beautiful attractions which are equally pleasant for children and adults.
There is enough to do on the Malaysian peninsula. Visiting the beautiful National Park Taman Negara is absolutely a highlight of your trip; though you will spot few big animals, there are lots of smaller ones, birds and insects. The longboat trip to the nature reserve on its own will be liked by the children. The highlands are also great as a change (it is a lot cooler and you can go for lovely walks). Especially popular are the Cameron Highlands, where your kids can also visit one of many tea plantations.
The islands of Langkawi and Penang can also be visited with children, usually visiting these islands is an excellent finale of a tour organized by the travel agency.
At the Oriental Village at Langkawi Island there is an enormous cable car – Panorama Langkawi – which takes you to the top of the mountain to see the beautiful panoramic view of the island. Langkawi has numerous other great attractions that your kids will love.
Penang has a tropical fruit farm and a beautiful butterfly garden. There are quite a few nice temples and numerous other sights. The night market in the small coastal town Batu Feringghi is also great fun for kids.
If you want to visit the best dive and snorkel islands during the dry season – April until October, then you should travel to east coast islands like Perhentian, Redang, Kapas or Tioman. You can snorkel, swim and even dive together with the children. Besides many beautiful fish species, there is a big chance you can swim with huge turtles (especially abundant in the seas around Perhentian Island).
Kuala Gandah is a small village just a few hours away from the capital Kuala Lumpur, where you will find an elephant sanctuary. You can feed and wash the elephants, which is yet another great experience for the kids (please do not ride on the back of elephants as they weren't built for that). Also nearby Kuala Lumpur is the small village of Kuala Selangor. Here you can visit the firefly park (in the evenings) and witness millions of fireflies (lightning bugs) once it is dark.
In Borneo you can for example easily discover the jungle (basic level). You will choose an easy to reach and accessible nature park instead of the really hard core jungle trips. A visit to one of the traditional indigenous people will also be memorable for the kids. In the northeast of Borneo (close to Sandakan) you can also visit Sepilok, the orangutan reserve.
There are also various other attractions, such as the humongous Gomantong bat cave, Turtle Island where you can observe turtles and the amazing Kinabatangan river (3 to 4 hours' drive from Sandakan); where you can see elephants, orangutans, proboscis monkeys, crocodiles and many other kinds of animals and birds. A true adventure for children!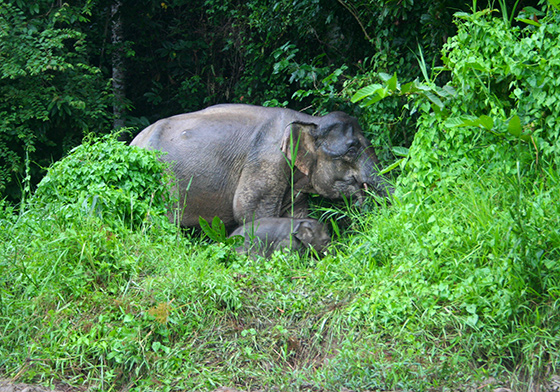 If your kids love theme parks, you should consider a visit to Johor Bahru in the south of Malaysia near Singapore. Here you have Legoland Malaysia; with over 40 rides, shows and attractions. Highlight is Miniland; where over 30 million bricks of lego where used to recreate numerous Asian landmarks.
All in all there is so much to do with children on tour through Malaysia. Apart from all these huge attractions, there are often also small activities which will be of extra fun for the kids. The locals are always very nice and sweet with children. They will often be spoiled and will get far more attention than they need.
A beautiful description of a proud parent with children
Our kids traveled with us for a couple of months, they spent a long time in airplanes and buses but still were easy to handle. Most travelers are surprised when they realize that you can still go backpacking once you have kids. Our kids talk to everybody and get a lot of attention in return. Observing things with the kids gives you another view on the country, because they will notice completely different things than you. Children's simplicity … A new world opens up. And if they cry from time to time…it doesn't matter. Give them some attention and they are fine again. For years our kids have behaved so well on the plane. It is the biggest experience in their lives. And why do you travel….because as parents, you enjoy it. You want something more than Center Parcs, European beaches or similar. And kids like everything…So, you travel because as an adult you like it, you are doing it for yourself. In the process, you try and make it fun for the children too and you organize some activities that they really like. So, people with kids, keep flying!!!! Everyone has been young and has cried before. No reason to miss out on these great adventures…
Malaysia is a safe country
Malaysia is an exceptionally safe country, but rule of thumb is not to do or undertake any crazy things (the ones that you would also avoid in your own country). Driving in Malaysia is safe too, highways are often in excellent conditions. Roads in local towns might force you to drive slowly. Self-drives are particularly popular at the peninsula.
Protect yourself and your children
You should always be well prepared (for example during day trips): take enough water, enough DEET to protect yourself against mosquitoes, Dengue does occur a lot and it is not pleasant (read: life threatening!). If your family doctor advises malaria treatment, then go ahead with it. Only in a few regions in Malaysia there is a risk of Malaria. If you do not like Malaria treatment for your children (for example because they are too young for it), just avoid those areas.
It is also important that you and your children are well informed in advance regarding the tropical regions. Apart from the vital protection, you should also carry sun screen wherever you go. Adults usually get sunburn within the hour, children are often a lot more sensitive. You can buy sun screen in Malaysia too.
Visit Malaysia 2014
2014 will be an important year for Malaysia, as it has been branded 'Visit Malaysia 2014'. During this year there will be many events to celebrate Malaysia's tourism achievements and potential. Many events are also great for kids, so if you are planning a trip to this wonderful country, make sure you do so in 2014.
Have fun in Malaysia.
Subscribe now to never miss a post!
Subscribe to our email updates or the RSS feed, right now!
Share