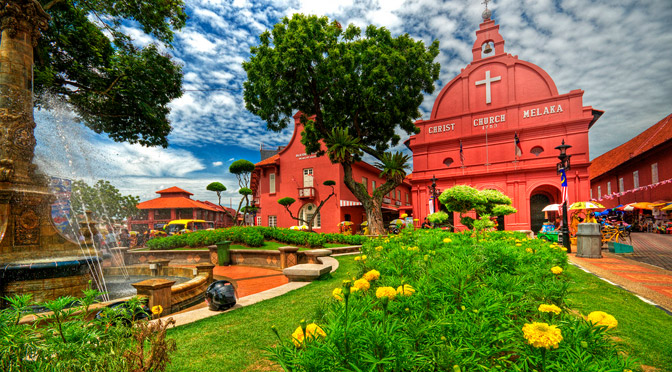 This article was originally about top 10 things to do in Melaka but later it was upgraded to top 20 things to do in Melaka. The reason behind this is very simple as there are plenty of things to do in Malacca. It is one of UNESCO world heritage sites in Malaysia, so historical sites are on the menu. Food and local culture of Melaka is also unique.
Things to do in Melaka
Thus, keep this top 20 things to do in Melaka list for you in case you cannot remember them at spot. You will find it handy when in Melaka.
1. Get enthralled at A Famosa Resort
Let's begin the journey from past to present. Whether you are a history lover or not, A Famosa Resort is nice place to visit. It won't take too long to reach the resort. You will be there in one and a half hour if the journey began from Kuala Lumpur.
A Famosa Resort offers accommodation and theme parks including Safari Wonderland, Water Theme Park (also referred as A Famosa Water World), Old West (Cowboy Town). You can also have fun with different fun activities in the resort including Achery, Horse Riding, Paintball, Rock Climbing, Go Kart, Cycling, Paddle Boat, Pony Riding, Horse Carriage, Target Shooting Fishing.
You will find it a great place whether you are visiting alone or with the family. 20 things to do in Melaka list without A Famosa Resort will be incomplete.
2. Take a Trishaw Ride
Fast moving cars, bikes and planes are fun but the slow and colorful vehicle Trishaw offers you a unique travelling experience. Getting around Melaka in a Trishaw offers you a sort of experience where you move about scenery of the city like. The best thing about the Trishaw ride is that you would be able to take pictures as you move. The colorful carriage sort of vehicle reminds you of the horse carriages.
3. Explore Cheng Hoon Teng Chinese Temple
Old is Gold. You would love telling your family once you are back that you visited the oldest traditional Chinese temple in Malaysia that belongs to the seventeenth century. You can probably impress your Buddhist friends too that you know a little more than them about their culture! After all you have seen the once robed effigy of Guanyin with your own eyes in the temple.
Read more about Cheng Hoon Teng Chinese Temple
4. Look into The Stadhuys
The Red Square or the Stadhuys is a Dutch architecture that takes the visitors on a trip to 1600's. You will find Oriental buildings and a Museum of Ethnography in the Stadhuys. You can find daily routine items and goods as well as the bridal cultural items in the Stadhuys. The glory of past of the Malaccan people is evident for the costumes in the Red Square, so visit to The Stadhuys is one among the best things to do in Melaka.
5. Get on the River Cruise Melaka
Melaka River connects the two parts of city as well as past to the present. The river flows besides streets and you will remember the sails besides Jonker Street from where you could see the Ferry Wheel too. The specially designed boats float on the river between streets like a shadow of Venice. So, don't forget to try River Cruise Melaka in your 20 things to do in Melaka list.
Read more about River Cruise Melaka

6. Explore Baba Nyonya Heritage Museum
The Chinese-Malay rich families left behind them a culture that is center of attraction for the tourists. Baby Nyonya Heritage Museum located behind the Jonker Street is a worth visiting place. One can see rooms, ceilings, wall and doors of the old houses telling about the rich architecture of the ethnic group.
Read more about Baba Nyona Heritage Museum
7. Cheng Ho Cultural Museum
The Cheng Ho Cultural Museum is maintained by a very warm staff that guides you about history of the place. Cheng Ho was a legend and the museum offers his history and fabulous maritime exploits. You can also find literature on Chinese maritime here in the museum. Don't forget to watch the 5 minute video on the history of Cheng Ho in the museum.
Read more about Cheng Ho Cultural Museum
8. Shop in Jonker Street
Fun begins at Jonker Street but is never ends. The street is not as crazy as the water world in the A Famosa Resort but the fun is no less when you shop and dine with your buddies. History and culture can be experienced at their epic in the Jonker Street Melaka. Weekdays are fun but Saturday Sundays are the must have experience in the Jonker Street.
This street is so famous that now it is being referred as Jonker Walk Melaka Experience. There is also a Jonker Walk gate when this street will start. Without a visit to Jonker Street your 20 things to do list will always be incomplete.
9. Visit the Malacca Sultanate Palace
Paintings, art depiction and the furniture of Sultans of Melaka can be found in the Malacca Sultanate Palace. The city had been home to Malay, Buddhist, Christian and Dutch cultures. This building of Muslim era is located near the St. Paul Hill. The building is made of wood totally and it is amazing to find that there are no nails used in it. The gardens beside the palace also reminds you of how gardens used to be in the old time.
Read more about Malacca Sultanate Palace
10. Stopover Christ Church
The Malaccan Churches had been home to Christians from different lands. Visit the church for its architecture and the history. The Church has been redesigned. You would love the spacious halls and the touch of local Melaka culture. It is a spiritual and historical trip to be in the Christ Church Melaka.
Read more about Christ Church Melaka
11. Flora de la Mar Maritime Museum
It would be nice to go to the Maritime Museum in Melaka where you can see the Portuguese ship called Flora de la Mar, which was sunk in the Melaka shore long time ago. There are many historical ships and ship related parts but the colorful depictions of the sea routes and sea trade are worth seeing particularly. The museum is within the walking distance of Jonker Street The Stadhuys.
Read more about Maritime Museum
12. Try Nyonya Food
Less chopped and more tasty Nyonya food is a must try experience in Melaka. After all you cannot stay hungry all the day especially when there is a great fusion food available. The Nyonya food in Melaka offers you a mixed taste of eastern and western dishes. You should try some of the unforgettable dishes like Asam Pedas, Curry Fish head (with sauces and salads), Otak-Otak, prawns soups and much more. A meal is not complete without Cendol (Melaka desserts) in Melaka.
For food lover, trying Nyonya food should be on top in best things to do in Melaka list 🙂
13. Stop by Kampung Morten and have a Snapshot
The Kampong Morten is a great place to stop by for a selfie or a family group photo. The place is great resort and educational development that guides the visitors and tourists about cultural way and traditional life in Malacca. The place is a living encyclopedia of Melaka.
14. Catch up on Portuguese History at A Famosa Fort
A Famosa fort is the 16th century wonder remembrance of the Portuguese arrival in Malaysia. Not enough is left of the fort, but the front still stands. There are canons placed in front of the fort too. The fort is one of great places to test your camera skills since it offers view of a historical place with background of sharp blue shy and green trees.
15. Melaka Wonderland Theme Park
You may forgive yourself for not having been to Melaka Wonderland Theme Park, but your kids will not. It is a great place to visit in all the seasons, but summers are cooler in this Theme Park. Thrill rides and speedy water slides are the best fun services of the place. The park is surrounded by a natural recreational forest spreading over 360 hectares.
Read more about Melaka Wonderland Theme Park
16. Have a Homestay Experience
There is more than one reason for having a homestay in Melaka. Although it is nice to be in a hotel, yet the homestay is a better experience since you get a more comfortable environment. Normally the homestay sates are a little higher. But you can avoid bug bites of some old furniture's in hotels by staying in the local residences as a paying guest.
Read more about Melaka Homestay
17. Visit Amazing Malacca Butterfly Reptile Sanctuary
The fauna of Melaka is attractive for both the locals and the tourists. There is a Malacca Butterfly Reptile Sanctuary that can be found in Ayer Keroh, which is also one of the best Malacca tourist attractions. It is an 11ha jungle area that is home to species of reptiles, butterflies and insects. You can see amazing sizes and colors of butterflies in the sanctuary. Another thing you are going to surely appreciate is the well maintained area that does not let your interest decrease at the place.
Read more about Butterfly Reptile Sanctuary
18. Melaka Zoo – The Second Largest Zoo in Melaka
Wanna visit one of the largest Malaysian Zoo's? Melaka Zoo is second largest of its kind in the country. The zoo is a safari place where the visitors are introduced to over 1200 animals, most of which roam freely in the park. You will love to find over 200 animal species in the zoo that could not be probably covered in biology book too. You can bet your friends after visiting the Melaka Zoo that deer barks too! (Barking deer is an endangered species kept in the zoo).
19. Sri Pogyatha Vinoyagar Moorthi Temple
The rich Malaccan culture is not only home to the Muslim, Christian and Buddhist cultures but you will also find some great Hindu cultural buildings as well. Posters, paintings and carvings of elephant head creatures (Ganesh) tell you that the place belongs to the Hindu deity Vinoyagar. The place tells you about one of finest use of colors in Hindu traditions especially the Chitty community that arrived here 600 years ago.
Read more about Sri Pogyatha Temple
20. Climb the 110 meter Menara Melaka
Riding the Menara Melaka should be either first or the last thing to do in Melaka. Reason? It offers you a 360 degree view of the city that should either serve as an introduction to the city or a review of the places you visited.
This is a great place for you to see a 360 degree panoramic view of the city. Believe it, aerial views of the city are great especially when you can circle over the tower to have a comprehensive view.
This 110 meters high tower or Menara does not make you dizzy, so take a ride and have an amazing 360 degree view of Melaka.
There are some of the best and recommended must-do activities and things to do in Melaka. If you want to recommend an activity, please do so by adding comments below.
Things to do in other Malaysian destinations: