Overview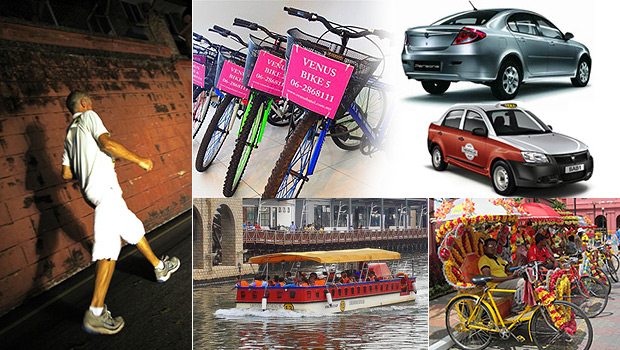 As any other historical city, Malacca is very interesting, original and special. It offers delicious local cuisine, amazing attraction places and many astonishing photo shoot points. No matter how curious or eager you can be, this state will fulfill your whims. If you choose Malacca as your tourist destination you won't be disappointed. As soon as you reached this city, don't waste your time, just find a conveyance and explore, learn, eat, drink, have fun and feel Melaka.
Whether you are travelling alone, as a couple or in a group, the best way to get around the prime of Malacca is on foot. First of all visit Baba-Nyonya Heritage Museum and Malacca Sultanate Palace Museum. These 2 places will tell you everything about Malaccan history. It is very important to know its past. The good part about Melaka is almost 70% of the major attractions are within 1km radius. There is no better way to have a good feel about Melaka by walking. It's also a good free way to burn calorie without too exhausted.
If you are running out of time, rent a bicycle or join a cycling tour group. Some hotels offer bicycle rental for their guests. Each corner in Malacca denotes history, but at the same time, it is a modern city. The drawback of cycling within the city area is there is limited tracks for bicycle so sharing roads with cars and buses may become a bit dangerous. Also, do take note that some attractions in the hill side like St. Paul's Hill are not reachable in bike.
When you reached Malacca River, try to look for Muara Jetty, which is next to Quayside Heritage Centre. This is the where the river cruise journey starts. In the 45-min sightseeing tour, you'll cruise past historic buildings, old warehouses(godowns) and graffiti art on the buildings. Melaka River Cruise is one of the best ways to see the city's beauty. If you haven't got enough of the river view, pick a restaurant by the river and see how the environment changes color when the sky turns dark.
An unusual transport within Melaka is a trishaw. It is a small vehicle with a pedal and three wheels. You can find them at the Dutch Square. This non-pollute vehicle driver and at the same time guide, will acquaint you with every touristic point in the city.
No doubt a car is the faster way to explore a city. For most visitors who wants to explore Melaka outside the prime city area, hail for a taxi and the driver will take you anywhere you want. If you prefer chartered taxi services, they are available at the end of Jalan Kee Ann. A taxi can carry up to 4 passengers. As most taxi drivers don't use meter, it is best to negotiate the price before hopping in the taxi. You are being ripped off if a ride less than 5 mins is charged RM15. A personal car is the most convenient vehicle. You have everything you may need at hand, especially when you travel with kids.
Any transport vehicle you choose will help you to explore the beautiful and unique Malacca.
About the Author
Related Posts
2 Responses to Getting around Melaka
Anne Liltved says:

I have tried to find a bus from Malacca to Mersing on July 8, but it seems as if they are all fully booked. Could it still be a chance to find bus transport or do we need to take a taxi (family of five)?

Go Admin says:

You may want to search for the bus availability at Easybook and see if you can secure the seats. If bus transport is not possible, taking a taxi is an option.